Summary rating from user's marks. You can set own marks for this article - just click on stars above and press "Accept".
Accept
Hobby King Quanum Nova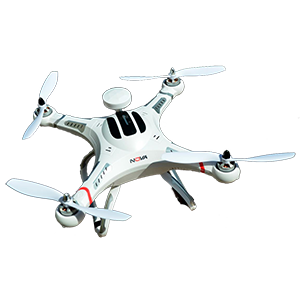 The Hobby King Quantum Nova is a ready to fly GPS drone that is low in price but high in capability. This consumer friendly flying drone is capable of professional level flight performance while being simple to use. The Quanum Nova is perfect for carrying a GoPro or similar sized action camera to shoot amazing aerial videos. The drone is also Q-2D brushless camera gimbal ready with on-board power connectors and on-board tilt and roll controls, though it is optional and not included.
Hobby King sells the Quanum Nova for $319 with a LiPoly battery and charger. Included in this price is the Quanum Nova QuadCopter, the 2.4GHZ 7-channel radio transmitter, 3S 2700mAh LiPoly Battery, LiPoly balance charger, GoPro Hero 3 vibration dampened camera mount, and the propellers needed. You may also purchase the Quanum Nova for $299 without the LiPoly battery and charger, but consumers would then need to supply their own they would fit. Four AA batteries are required for the radio transmitter and not included in the price of either the battery included or battery-less package.
The Quanum Nova includes multiple preset flight modes; Altitude Hold, Direction Locked (simple), Manual, Stable (loiter), and Return to Home for example. Offering on-board compass, altitude sensors, and precision GPS this Quad Copter makes it easy for you to get the perfect angle for your video shoots. The included 7 channel 2.4GHz transmitter allows you to control the Quanum Nova from up to 300 meters away.
Featuring a sleek white molded plastic body that is durable and extremely light weight. The Quanum Nova integrates bright LED lights to help with orientation day or night. The lights on the front arms are green, and the rear arm lights are red. In addition to these lights there are two large status indicating LED's on the rear that show the GPS signal and battery condition. With an approximate flight time of fifteen minutes, it's a good thing to note the drone's low voltage battery protection system, which uses blinking LED's and an audible buzzer to alert users to when the flight battery is low.
The Quanum Nova GPS Quad Copter arrives to you completely tuned and setup, and is considered ready to fly right from the box. Though consumers will need to install the landing gear, props and charge the battery before the drone is actually able to fly. The Quanum Nova can be connected to MAVLink compatible software such as Mission Planner, which allows more advanced users access to a wide array of programming options such as selecting flight modes, GPS waypoint functionality, advanced tuning and more.
To summarize, the Quanum Nova is a great drone for professionals or anyone else that is interested in a drone. Super easy to use and ready to fly out of the box, Hobby King has really put a lot of work into this drone for general consumers. With a sleek body, light weight quadcopter design, and long list of features, this is one of the best drone products to hit the market. It's no wonder the Hobby King Quanum Nova has taken the number one spot on our list of iReviews 2015 best drones.
Related YouTube videos:
Embed: <a href="http://drones.ireviews.com/hobby-king-quanum-nova-review"><img src="http://www1.ireviews.com/images/2015-iReviews-gold-badge.png" alt="Hobby King Quanum Nova iReview"/></a>