Summary rating from user's marks. You can set own marks for this article - just click on stars above and press "Accept".
Accept
CSP PowerWASP EVO
Price:
$1,950
"With the innovation that already encapsulates the PowerWASP Evo, the user knows that he or she is getting a ground-breaking product."
Back to reviews
Visit website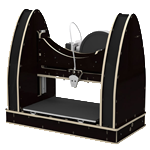 The CSP PowerWASP Evo is the first ever 3D printer to feature milling and cutting abilities, paired with the rich and accurate printing abilities one would expect from a machine of such a fine caliber. World's Advance Saving Project or WASP is an Italian company, founded 20 years ago on the hope of saving the environment by being able to "print" houses. With that idea, Massimo Moretti brought in design students from an Italian design university and began a new standard of innovation in the 3D printing world.
The newest addition to the WASP line, the Evo is an improved version of the already capable PowerWASP. The Evo's improvements are subtle, but make a large difference in functionality. Retraction precision is increased by a shorter bowden and further improved by a filament take-up gear. Filament is able to be switched out quicker, due to tooling improvements, and improvements in cooling via a fan help efficiency and stability all around.
The PowerWASP Evo has the capability to accurately mill and cut materials, making it the most versatile machine in its class. The ability to mill wood, plastics and polymeric plates is apparent. However, the Evo takes it a step further, with the ability to mill aluminum of 6mm thickness. Adding the available cutter kit, the printer can mill 2D/3D wood and aluminum up to 10mm. The Evo is also worthy of applications such as the manufacture of printed circuit boards, which could be extremely handy not only to the home builder, but to future applications of the 3D printing world. With the pairing of these capabilities, the possibilities are truly endless.
The PowerWASP Evo can not only cut and mill by switching heads, it can also print with clay and other materials not yet used or perfected by other machines. Of course, the experimentation is ongoing for this technology, but think of how this ability could change manufacturing and design. With help from Mirco Denicol, professor of ceramic technology at ISIA Faenza, the team has found a clay mixture that will work for most applications, and is good for building as well as curing. A 5mm extruder tip has been used in the beta testing of this capability. The "syringe head", as the developers call it, has the capability to extrude not only clay, but also silicone, glue and glue-like materials, many sorts of gels and even chocolate!
Using plastic as a printing tool, the PowerWASP Evo can print with up to 0.05mm precision. Not only is it accurate, but it is fast, printing up to 200mm/sec. With a build envelope of 260 x 200 x 210 mm, a decent print job can be accomplished. The nozzle is a standard 0.35mm, so it can accept most commercially-available filaments, which is handy for users and cost effective. The Evo can print using filaments made of PLA, nylon, ABS, PC, PS, rubbers and wood filaments.
The PowerWASP Evo uses an STL input format, which is convenient to those users who are already designing and printing, and uses the DXF input format for milling. The software for use, available from the manufacturer's website, is available for Windows XP, Vista, Mac OSX and Linux. With a weight of just over 13lbs, this machine is transportable, even though it is not equipped for transport in ways that other manufacturers' units are. The Evo comes preassembled and will require calibration upon arrival to your doorstep. Many manuals and instruction videos can be found on the company's website.
With the innovation that already encapsulates the PowerWASP Evo, the user knows that he or she is getting a ground-breaking product. WASP's printers are under continuous improvement plans, which means updates and new tools are available for the lifetime of the product. With a 4 week delivery time in the EU and a 6 week wait for US buyers, it is suggested that buyers get their orders in well ahead of time. With milling abilities and more, not found on more affordable machines, the PowerWASP Evo definitely earns its price point and its spot on the top of our list of iReviews 2015 3D printers under $2,000.
Related YouTube videos:
Embed: <a href="http://3d-printers.ireviews.com/csp-powerwasp-evo-review"><img src="http://www1.ireviews.com/images/2015-iReviews-gold-badge.png" alt="csp powerwasp evo iReview"/></a>