Summary rating from user's marks. You can set own marks for this article - just click on stars above and press "Accept".
Accept
3D Systems Cube 3
Price:
$999
"All in all, the Cube 3 is an extremely impressive and versatile solution offered by 3D Systems and it was a pure joy to watch it work."
Back to reviews
Visit website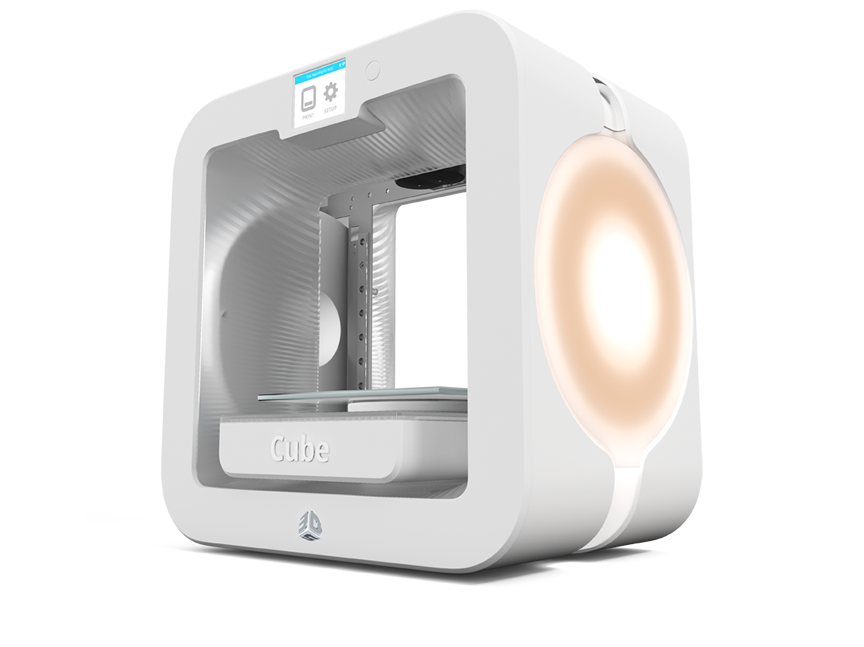 3D Systems is one of the leading manufacturers of 3D printing and scanning technology. Having invented 3D printing technology in 1989, they remain at the top of their game in the industry. While most companies still offer one or two products, 3D System has many to choose from, in all different price ranges, and for all types of applications. The South Carolina based company is quickly becoming known as an authority in the field, providing applications designed to accommodate home enthusiasts, small businesses, manufacturers, and even the medical field. One of their latest offerings, the 3D Systems Cube 3, is designed to be more financially attainable, while maintaining an excellent standard of design, versatility and quality.
You may be wondering why, with all of these things at their advantage, including almost 30 years of history in the field, that the Cube 3 doesn't rate higher than our first pick. Although it was a tough call, we rated this model second due to its higher price tag, smaller build sizes, slower printing speeds and the need to purchase proprietary materials that are considerably higher priced than generic alternatives. There are several other features, though, such as its superior print quality, that rates this printer highly nonetheless. We will go over some of those features below.
3D Systems offers amazing presentations and demonstrations of their products, having an impressive amount of grasp on marketing, which occurs naturally after being in business for so long. Their presentations of the Cube 3D are no exception. They demonstrate the ease and functionality of their product in a way that makes you want one, regardless of whether or not it is a practical choice for your own particular needs. They just make it look cool and a must-have addition to your technological arsenal.
The 3D Systems Cube 3 printer comes straight out of the box ready to go within minutes of setup. Everything is fully assembled and all that is required is to snap the cartridges in, plug it in, install the necessary software and go. Just like some of the other big companies out there, 3D Systems has developed a printing technology, not unlike the normal inkjet printer, which incorporates the extruder head into the filament cartridge and makes it disposable. This feature helps maintain top notch quality while preventing head clogs and virtually eliminating normal maintenance concerns that are often associated with 3D printers.
23 colors of filament are available in PLA and ABS materials, all in 1kg cartridges, for only $49 each. Although this is more than twice the cost of generic rolls of filament, it is very reasonable considering the fact that each cartridge comes with its own integrated extruder head. Every time you insert a new cartridge, it is like starting with a fresh new printer, so the cost of cartridges, as well as the proprietary materials, are justified by the inclusion of the on-board heads.
Printing from the Cube 3 is also completely wireless, which allows for unlimited possibilities. Not only can you print from your computer as normal, but you can also print from mobile devices such as smart phones and tablets, completely eliminating the need for connection to a computer, and therefore cutting costs even more. Cube also provides a design feed that can be shared with multiple users, as well as a virtual shelf that allows you to store and access your 3D designs.
Printer settings can be configured through an impressive touch screen, full color interface. This not only makes operation easier than ever, but stays true to its safety ratings, which certifies use for anyone over 8 years old, making it possible for an 8 year old to not only be around the device safely, but even operate it as well. This allows for the possibility to take the Cube 3 to schools and introduce this wonderful technology to a whole new generation.
A respectable build area of 152 square millimeters is easily attainable, as well as speeds of up to 100mm/s, depending on print quality selected. The best resolution this printer can achieve is as low as 70 microns, which can accommodate some amazingly detailed models. The dual head configuration accommodates not only two different colors simultaneously, but two different materials as well, which is only achievable when the extruder heads are part of the filament cartridges. Their PLA and ABS materials are also biodegradable and recyclable for those who are more environmentally conscious.
The printer comes with a starter filament cartridge, the Cubify app for Windows and OSX and 25 free designs to get you started immediately. You can also download their mobile app for iOS through the iTunes store. The Cube 3 also has a very small footprint, at around 12 square inches, making it a true space saver.
3D Systems has amazing technical support and sales materials available, providing a wealth of information about their product, as well as several ways to get your sales and support questions answered. You can email them, call their toll free number or visit their forum. They have several videos that not only demonstrate their product offerings effectively, but also show how to use their printers. A full FAQ on their website, as well as a knowledge base and detailed features and specs pages, rounds out one of the most complete sets of online documentation of a product we have ever seen.
Their file formats are proprietary as well, making it possible to only use 3D models in the .cube format. This can be for the purpose of maintaining a certain quality standard, but it also keeps the files you can obtain exclusive to their store, which some open source advocates might frown on.
All in all, the Cube 3 is an extremely impressive and versatile solution offered by 3D Systems and it was a pure joy to watch it work. It would have taken the top spot on our innovation list if the price was a little lower and the build size and material options weren't so limited. These things definitely keep this printer in a box that limits the overall applications and industries in which it can be useful. Nonetheless, the 3D Systems Cube 3 is a worthy entry into our list of iReviews 2015 best 3D printers under $1,000.
Related YouTube videos: